Kingdom Of Fife Pub of the Year
Pub of the Year
Pub of the Year - What is it
The Pub of the Year (POTY) is an annual competition run by local CAMRA branches to find the best pub within there area.
The Process
January - Local branch members are asked to nominate 5 Real Ale pubs, within the Fife area.
February - A short list of 5 Real Ale pubs are selected from the nominated Fife pubs.
A judging panel of 5 will be formed (consisting of the Chairman, Pubs Officer & other committee members).
The judging panel will use the national CAMRA scoring criteria to determine the winning pubs and judging will take place on one or two collective visits at an unannounced time in 2023.
March - Pubs Officer announces winner.
2023 - Nominations - Open
Branch members have now been contacted via email inviting them to nominate pubs for this years competition.
If you have not yet been contacted, and wish to take part please contact the Pubs Officer for more information,
or you can follow the following link: 2023 Pub of the Year Voting.
2023 - Finalists
We are pleased to announce the 5 pubs that that been short-listed by the branch for the Pub of the Year Competition are:
The Albert, The Commercial, The Criterion, The Hillend Tavern, The Railway
2023 Pub of the Year Results
We are delighted to announce that the Kingdom of Fife CAMRA Pub of the Year 2023 is
The Hillend Tavern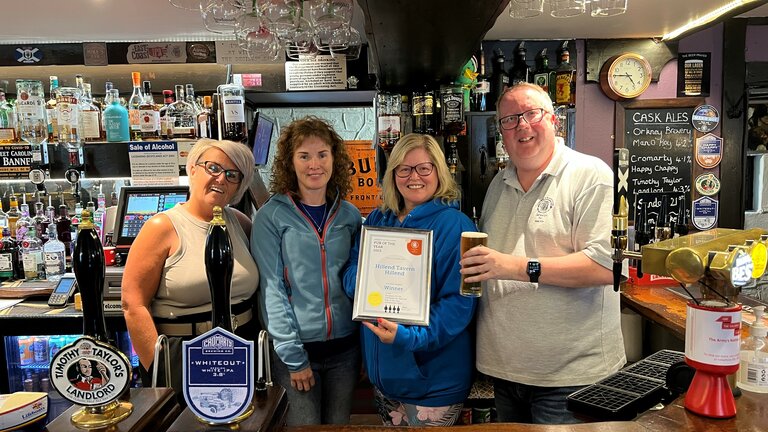 We are delighted to announce the runners up of the Kingdom of Fife CAMRA Pub of the Year 2023, are
The Commercial (Dunfermline), The Albert (Freuchie)
Previous Years
| Year | Pub of The Year | Location |
| --- | --- | --- |
| 2022 | Commercial | Dunfermline |
| 2021 | Hillend Tavern / Commercial | Hillend / Dunfermline |
| 2020 | Hillend Tavern | Hillend |
| 2019 | Railway Inn | Lower Largo |
| 2018 | Hillend Tavern | Hillend |
| 2017 | Hillend Tavern | Hillend |
| 2016 | Foresters Arms | Aberdour |
| 2015 | Foresters Arms | Aberdour |
| 2014 | Commercial Inn | Dunfermline |
| 2013 | Central Bar | St Andrews |
| 2012 | Central Bar | St Andrews |
| 2011 | Albert Tavern | Freuchie |
| 2010 | Albert Tavern | Freuchie |